---
HOOP FEVER
ICE
Catch that Basketball fever! The Hoop Fever Basketball Game will get anyone in the mood to play some ball. It's constructed of steel and wood so you can be sure that this game will last you for years. Noted not only for its superior quality, but also for being one of the most maintenance-free games on the market, this Basketball Game is a guaranteed winner! Catch the fever with the Hoop Fever Basketball Game today!
Features:
• Steel and wood construction
• Offers options of 1 to 4 players
• Three Adjustable Heights: 8′ 6″, and 9′
• Can be set to freeplay or coin operated
• The most durable and cost-efficient basketball game available
• Stationary basket
• 3D Backlight
• Accessories Included: 9″ Basketballs

Call for product pricing and availability.
513-281-4444
---
SMART SHOOT TO WIN
Smart Industries' extremely popular basketball game is back with an updated look! Score enough points on the first round and you get the chance to play up to 2 more rounds with the moving hoop. Link up to 16 games together for head-to-head competition.
Great sound effects and music

Durable polycarbonate backboard

Link up to 16 units for head-to-head competition

3 Rounds of play (2 rounds with Moving Hoop Action)

Includes five 8" basketballs (can use 7" up to regulation 9" balls)

Multi-colored Rope Lights with speed and pattern control

Adjustable Playing Time

Call for product pricing and availability.
513-281-4444
---
SUPERSHOT
The Super Shot offers all of the excitement of the fast-paced basketball shooting game you remember from your youth, but updates the package with modern components. Skee Ball has enhanced the lighting for a more stunning visual display, while the time / score board is easy to see while playing. Enhanced game play, with simple back-and-forth movement of the backboard during play, adds to an awesome experience!
Features:
Moving Backboard
Real Basketball Sound Effects
Five (5) Super Shot Basketballs
Exact Same Commerical Unit as Found in Arcades
Dimensions: W 34″ x D 126″ x H 108
Call for product pricing and availability.
513-281-4444
---
Collegiate Hoops
Features:
Programmable gameplay from 30-60 seconds
Removable top arch to accommodate 8ft. (96") ceilings
Real hardwood floor
Uses same basketballs as Hoop Fever and NBA Hoops
Includes strobing LED's that move from front to back of cabinet
Options:
Linking
Ticket dispenser
Dollar Bill Acceptor
Dimensions:
Assembled Dimensions:
100″L x 39″W x 108″H (or lowered to 96″)
Shipping Dimensions and Weight:
96″L X 49″W X 78″H x 584 lbs.
Call for product pricing and availability.
513-281-4444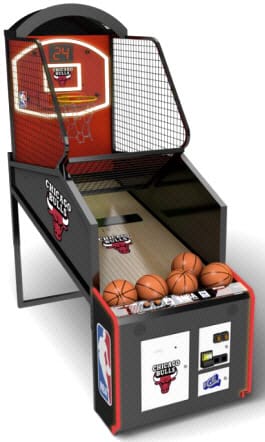 ---
NBA Game Time
ICE NBA Game Time Custom NBA Team Basketball Arcade Machine | Choose your favorite NBA Team to create a custom Basketball Arcade experience! New Product and Full info coming soon!
Optional Deluxe Marquee Sign
Optional Single Game Beacon Light
Optional Game Link + Beacon Light
Optional Ticket Dispenser
Optional Swipe Card Install (Each
Optional Dollar Bill Acceptor | Stacker
Optional 220 Volt Power Conversion
Power Requirements : 110 Volts | Optional 220V
Electrical Usage : 110V @ 6A | 220V @ 3A
Players : 1 Player Basketball Sports Arcade Game
NBA Game Time Custom Model Basketball Dimensions :
Height: 99″, Width: 39″, Depth: 105″
Call for product pricing and availability.
513-281-4444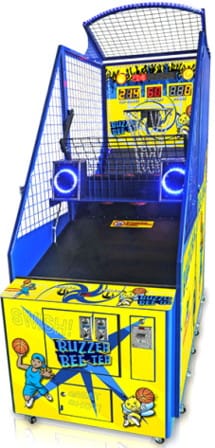 ---
Buzzer Bee-Ter Basketball
The new Buzzer Bee-Ter Basketball offers an intense
one or two player court hoops action, in a very bright
and colorful eye-catching cabinet ! Buzzer Beeter is
also linkable to other units for engaging, multi-player basketball player competition to encourage group play !
Buzzer Bee-Ter Basketball comes with a Swing Hoop,
and was designed and constructed to a be foldable
basketball machine for quick packing and transportation,
and can also be used as a ticket redemption sports
arcade game with the available optional ticket dispenser.
Buzzer Bee-Ter Basketball Arcade Game Features :
▪ Fun Game Play and Sound – Suitable For All Ages
▪ Bright, Dependable, Long Lasting LED Lighting
▪ Attractive, Eye-Catching Game Cabinet !
▪ Operator Programmable Game Settings
▪ Convenient + Large Pullout Ticket Drawers
▪ Optional LED Lighted Canopy Top Available
▪ Optional Ticket Dispenser Available
Buzzer Bee-Ter Basketball Arcade Game Dimensions
Height: 97″, Width: 37″, Depth: 93″, Weight: 746 Lbs
Call for product pricing and availability.
513-281-4444