Cruis'n Blast
Raw Thrills & Nintendo
---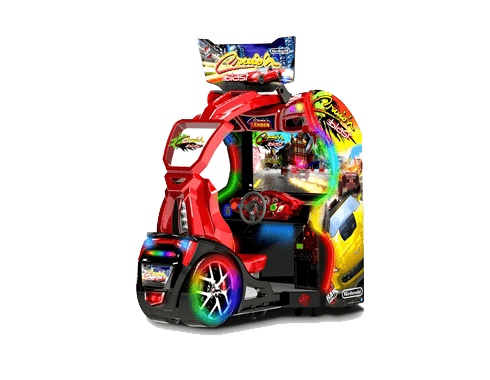 ---
Cruis'n Blast
Raw Thrills & Nintendo
The classic arcade game is back!
Raw Thrills™ introduces Cruis'n Blast™, their first arcade exclusive release.
The legendary Cruis'n™ series of driving games debuted in the '90's with the arcade smash and Nintendo 64™ launch title Cruis'n USA™. Cruis'n USA thrilled the world with amazing 3D realism and casual arcade fun, setting new records for income and operator ROI. Followed by Cruis'n World™, and Cruis'n Exotica™, the Cruis'n series sold over 70,000 arcade driving machines, grossing over $8 Billion worldwide.
"With the resurging millennial arcade scene and unprecedented player demand, the time was right for a new Cruis'n game." Eugene Jarvis, Raw Thrills President and creator of the Cruis'n series, stated.
Cruis'n Blast, developed by the crack Raw Thrills studio team, takes Cruis'n into the new millennium as players zoom 200 mph through the bustle of London, blast through the exotic wonders of Madagascar, celebrate Carnival in Rio, amaze to the hi tech splendor of Singapore, and drive an earth-shaking thriller through Death Valley. Every track is packed with speed thrills, exploding scenery, and extreme special FX. In tune with the times, players race in an immersive cockpit simulator loaded with HD supercomputer graphics and immersive effects. The Thrill-D Blaster™ sound system recreates the sound of an actual race, backed by a pumping soundtrack that is a staple of the Cruis'n experience.
Key features include:
NEW! Dramatic enclosed cockpit cabinet with fully immersive Thrill-D Blaster™ sound
NEW! BLAST™ turbo boost for truly insane speed!
Awesome supercars including Lamborghini Veneno™, Nissan GTR™, Corvette Z06™, and more.
43" 1080p HD LED TV
Mind-bending color FX from over 1000 Vibrant RGD LED's
State of the art GTX 750 Ti Nvidia supercomputer HD graphics
NEW! Link up to 8 games for massive multiplayer action

Height: 83″, Width: 43″, Depth: 82″, Weight: 534 Lbs
Call for product pricing and availability.
513-281-4444