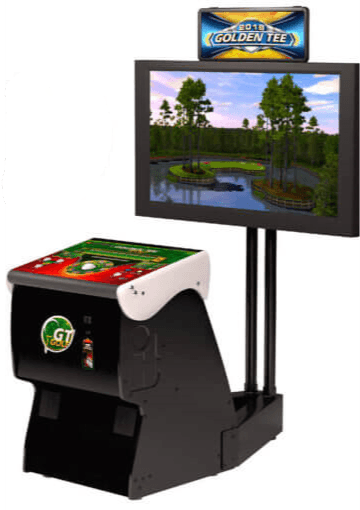 ---
Golden Tee 2018
Golden Tee 2018 is the latest version of the legendary pay-to-play video golf game. Avid video golfers around the world compete against the course, with friends or head-to-head in a wide variety of skill contest formats.
Golden Tee 2018 offers players an unprecedented 60 clever and challenging 18-hole fantasy courses to choose from. Sleek and easy to use menus make choosing your game a snap. Gorgeous hi-def game graphics and visual effects, and the iconic trackball control make Golden Tee 2018 the undisputed leader in coin-operated video games.
67 courses to choose from
Includes a 3 month online subscription trial ($9.95 per month or $99.95 per year thereafter)
Enhanced 1080p graphics and special effects
Updated menu system for quick game entry
New Control panel Art
New multi-player Closest to the Pin mode for local play
Customize play with enhanced balls, clubs, tees and clothing
Much more!
No Player Cards Needed!
Your Golden Tee Home Edition now comes equipped with a numeric keypad instead of a card reader. Now instead of swiping a card to check in, simply type in your 10-digit "Cardless ID" and 4-digit PIN to access your personal online profile. There's no need to wait for a card in the mail or worry about losing them. Just type in your number and play!
Plug and play! Hook it up to almost any HD television, plug it into the Ethernet, and the game you know and love is yours in 1080p!
*Optional 43″" monitor and stand available.
Call for product pricing and availability.
513-281-4444